Congratulations! You are now on the waiting list, please check your inbox for our confirmation email!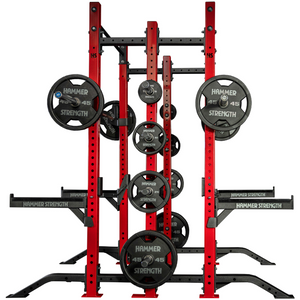 HD ATHLETIC NX HALF HALF COMBO RACK
The most space efficient Combo Rack that Hammer Strength builds provides a wide range of performance training options when space is at premium. The NX Half Half Combo Rack can be as shallow as 39" (99 cm) or as large as 119" (302 cm).
Specifications: 
Upright Height:

 

86" or 91"
Pull-up Options: Monkey Bar, Offset Bar, 2-Handle Bar, 2x3 Square
Rear XM Option: 2X3 Square, Super Duty XM (compatible with custom sign), Hammer Strength Sign
Bar Catches/ Supports: Standard Bar Supports, Premium Bar Supports, Standard HR Bar Catches, Premium HR Bar Catches
Storage Type: 

Single Storage (15in / 38.1), Single Storage (21in / 53.34cm), Double Storage (15 in / 38.1 cm), Double Storage (21in / 53.34cm)

Storage Depth: 15" or 21"
Weight Horns: 4 Pairs – Standard, 2 Pairs – Standard, 2 Pairs – Long, 4 Pairs – Long
Item SKU:

 

HDW-HR