Congratulations! You are now on the waiting list, please check your inbox for our confirmation email!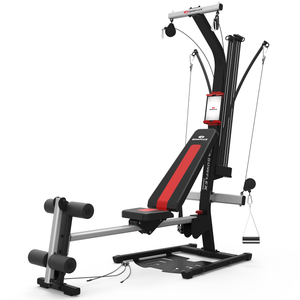 Bowflex PR1000 Home Gym
The Bowflex® PR1000 home gym helps strengthen your muscles and add a bit of cardio training to the mix with over 25 strength exercises and a built-in rowing station. With up to 210 pounds of Power Rod® resistance, this versatile machine helps work the abs, arms, chest, back, shoulders, and lower body.
TECHNOLOGY
• Over 200lbs of Power Rod® resistance
PERFORMANCE & QUALITY
• 25+ exercises that cover the entire body
• Multiple cable pulley position allow you to easily change the angle of resistance and increase effectiveness of many exercises
• Strength and cardio workouts possible, with aerobic rowing
COMFORT & USABILITY
• The bench converts to a rolling seat for aerobic rowing
• Vertical bench press with incline and flat adjustment
• Maximize your gym space with the vertical folding bench